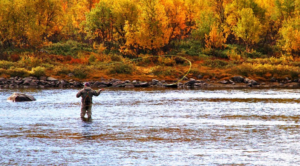 Fishing is a sport that most people enjoy taking part in. There are fishermen who love deep sea fishing and those that prefer a fresh water pond or rivers. To that same extent, there are also people who love to go fishing with a rod and reel, and then there are those who enjoy fly fishing. Both are challenging, but there are many who say that fly fishing is truly an artform. If you haven't given fly fishing a try, we recommend that you consider doing it, especially if you live out west.
What is Fly Fishing?
If you have ever watched the movie, "A River Runs Through It" you have a basic idea of what fly fishing entails and know already that Missoula Montana is a great place to do it. In it, the dad teaches his sons the proper way to go fly fishing. They swing their poles back and forth over the water, whipping their bait and tapping it against the water. The goal of fishing with this technique is to make hungry fish below the water's surface, see the fly as food and venture up to catch it. The rod and every other part of the gear is lightweight, and it takes a fair amount of practice to learn how to cast and imitate a fly, but the end result is very rewarding according to most who enjoy it. As an added bonus, it is a way of fishing that you can take part in, even in the mountains since it is effective in both calm ponds and raging rivers.
The Fish You Will Find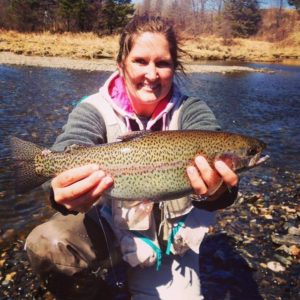 The most common fish that are caught with a fly include trout, grayling, and salmon, but this is not all inclusive. There are fly fishers trying their luck at catching a lot of different types of fish. They can often catch bass, pike, and panfish in fresh water. In saltwater, there have been people who have caught snook, bone fish, stripped bass, and redfish, but some of the more adventurous fly fishermen have tackled tuna, sharks, and marlins.
Best Western Fly Fishing Spots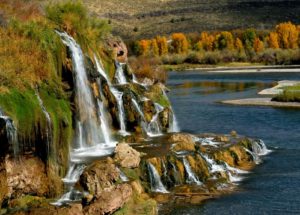 Montana offers a variety of great fishing rivers, but there are many other areas all over the western part of the United States. They include places like Snake River, which is located in Idaho and Lake Tahoe, especially if you visit one of the feeder creeks. Yosemite is home to the Merced River, which is well known for its abundant brown trout. It is also a place that offers an excellent array of scenery and wildlife outside of the river. Many people enjoy fly fishing in Yellowstone National Park and any number of other places. Basically, every state that has flowing rivers or ponds can be enjoyable fishing spots in the western part of the US. However, if you choose to fish a still pond, you may need to paddle out where the water is cooler if you want to have a successful fishing trip. You should also look for drop-offs, weeds, and other areas that could cause transitional waters.