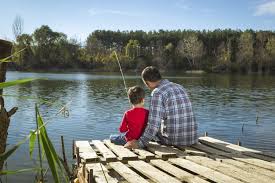 A lot of people cannot think of a better way to spend a lazy Saturday or Sunday than being out on the water sinking hooks and catching fish. It is perhaps one of the most enjoyable things to do if you enjoy kicking back with a cold one and spending time with friends. It can also give you an enjoyable way to spend the day with your family and it is something that all kids seem to enjoy. That is why there are so many fishing ideas for the whole family available for those who want to introduce their kids to the finer side of life; the stress-free side.
The Joy of Fishing with Family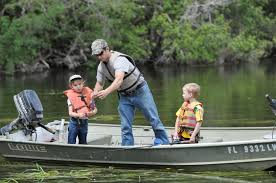 Fishing with the family will give you a chance to bond with one another away from the house where there are computers, tablets, phones, and television sets. It gives you a place that you can go with your family and laugh or talk about the tougher things that most all of us cannot find the time to talk about during the busy work weeks. This will allow them to explore the world and you can take it a step further by giving kids a reason to learn how to "swim like a fish" or see the world "through a fish's eyes". Little ones will often start imagining they are a fish in the tub when they come off a day on the water.
Keeping Boredom at Bay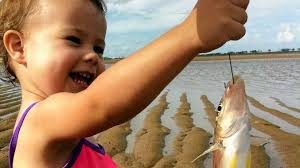 It is a sad truth, but many parents miss out on it because they put off going fishing with their child until the child is old enough to hold a rod and cast a reel. They do it for the right reasons in most cases. However, it is unnecessary. Even small children can gain from a day of fishing. You simply have to take along things to keep boredom at bay, since every true fisherman knows that not all fish bite when you want them to. Books to read, small toys to play with, and a blanket for nap-time if the sun and fun relax them a little too much. For nap-time, if you do not want to have a blanket or there isn't enough space on board the boat for it, you can choose a carrier that is waterproof for them to relax in. Many of them offer covers to protect them from sunburns as well.
Take Time to Enjoy the Little Things
When you venture out on the water or to the nearest shore, there are a few types of fish that you should strive to catch. They include blue gills, trout, sunfish, and bass. If you start fishing for either of these fish, your chances of success increase drastically. At first, if it is something your child is new to experiencing, boredom may be something you have to deal with. They may not want to join in with their own pole. Kids may want to do other things instead of sitting quietly for the fish to bite. Their attention span isn't often very long. However, if you manage to catch a fish for your child, their amazement will be well worth it. They will want to see it, touch it, hold it, and then try to catch one for themselves. Let them enjoy seeing the fish, show them that you are excited by the catch, and they will be even happier that they were there to see it.